Welcome aboard, l
et's Get Started…
Trust me on this, it will be one of the best decision of your life that you want to start a blog. I can tell you a number of benefits of starting a blog. Starting a blog is not as hard as you would expect. While there is a bit of a learning curve involved, with a little time and patience, even the least tech-savvy people can learn.
I like to say that if you can use social media sites like Facebook or Twitter and have a good understanding of email, you can learn to start a blog.
In this article, you will find a step-by-step guide to starting your own blog. Read the guidelines I've compiled for you, and feel free to take all the advice I am sharing.
I promise: I'll make all of this so straightforward, you'll be able to start your own blog in just one sitting:
Along the way, I'll share some tips that will save you time and money, too!
So here's what we'll be going to cover:
Here are the 6 simple steps that will help you in starting your blog.
Choose a Blogging Platform
How to Select a Domain Name
Set up and Design your Blog
Start Making Money with Your Blog
1. Choosing a Blogging Platform
You've got lots of options: WordPress, Wix, Weebly, and Squarespace to name just a few.
WordPress is your best option if you want to start a blog on a platform that…
Is beginner-friendly
Makes blogging as easy as writing an email
Allows you to have your own ".com"
Has no monthly fees (you only need a host and a domain name)
Comes with 5,000+ themes to suit your style, and
Gives you the power to make money from your blog one day,
There's a reason why WordPress.org powers over 91% of all the blogs on the web, including 62% of the top 100 company blogs.
But please don't rush out and sign up just yet!  I'll be showing you how to install WordPress in just one click and how to configure it all — but there a few quick things we need to do first.
Couldn't I just start a blog for free on a site like Blogger?
Yes absolutely, you can create your blog for free on sites like Blogger. I don't recommend it, because there are some pretty serious drawbacks you should know about:
Your site will be hard to find.
Want a nice site address like "Yourblog.com"? Too bad. With a free site, you'll be stuck with something like "yourblogname.blogger.com" – so less people will find your content.

You won't control the content.
Imagine losing years of work when your blog is taken offline because you broke a rule without knowing it. Sound far-fetched? It happens all the time.
You can't customize your site the way you want to.
No free plugins to add functionality like calendars or online shops. Limited themes, so your site looks like everyone else's. Boooooring.
You'll find it expensive to switch.
When you decide you want more control, switching from a free platform to something like WordPress can take hours of manual work and formatting.

Someone else will profit from YOUR hard work.
This is the worst one: free platforms reserve the right to put ads all over your content. Imagine seeing a huge, ugly pop-up for a product you don't even support on your blog– and not making a penny off of it! Unfair, right?
You're better off creating a WordPress blog that can grow with you.
Here's where things get tricky. WordPress runs two separate sites. There is WordPress.ORG and WordPress.COM. WordPress.com is free, but it's not what we recommend. While blogging on WordPress.com comes with no price tag it also comes with its limitations. The WordPress we mentioned above that offers all kinds of individualizations is actually WordPress.ORG. WordPress.com does NOT offer custom theme (i.e. layout) customizations, does not allow you to monetize and limits you to very little storage space so unless you plan to post once a year, you'll end up having to buy more space from them anyway.
WordPress.ORG on the other hand offers thousands of themes, the ability to purchase and install new themes, unlimited space and most importantly, the ability to monetize. But it does come at a cost. A cost, which we feel strongly is worth it.
2. Choose a Domain Name
The reason why WordPress.ORG comes at a cost is because you have to purchase web hosting to use it. Web hosting means you pay an external service to host your blog server. All of your content including your posts and pictures will sit on this server. So it isn't WordPress.ORG that you are paying, but a hosting service which will work in conjunction with WordPress to keep your site running. Here's how we would sum it up in one sentence:
You need a platform on which to blog, but your platform needs a place (i.e. a host) to store all of your content.
It's purchasing this host that will cost you. Luckily, it isn't very much and there are some extremely reasonable options out there.
I suggest Bluehost because the setup is seamless, the pricing is reasonable, and they are a reliable hosting company. They also only cost $4.95 a month. That's a latte a month.
Then there's the matter of purchasing your domain name. Your domain name is your blog's URL. You want this URL to be yours and yours only and not owned by anyone else. So instead of droppedweb.wordpress.com, I own droppedweb.com. Most hosts make you buy your domain name externally (through sites like godaddy.com) but Bluehost includes the cost of your domain making it by far the most affordable host on the market.
It also works hand-in-hand with WordPress so the second you purchase hosting it will direct you to WordPress so you can set up your account and have them linked.
3. Set up and Design your Blog (Hosting)
I would suggest going with the $3.95 plan, you can also upgrade later if you need to.
Blue Host can do free migrations if you aren't happy with your current host or looking for a change. The other plans do come with marketing extras. However, I don't use them so I just go with the basic plan.
Recommend Hosting: Perfect for new bloggers looking for cheap hosting. Click here and take advantage of the discounted $2.95 a month hosting. This is a SPECIAL deal I have managed to secure for my readers ONLY!
Think about the domain name for a while because you can't change it once you're on the other side.
If you're doing a blog that's going to be very active and you want to build awesome amounts of traffic to it then make it brandable. Something weird or something people will remember.
All you really need to do is head over to flame Domain and start clicking. You will know when you've found the right domain, it will stand out to you.
Blue Host will take you to the domain section after you have chosen a plan. If you already have a domain name then you can transfer it quick and easy.
Once you have done all that you will be asked to put in your details and payment details.
Once you've done that the next page will give you some options, The only one I go with is domain privacy.
It's not needed though I just like to use it.
So that's quite simple, right? Just follow the instructions and you're on your way to making a great blog.
I don't want to complicate things because it's very easy to do this. I could go on about options and pricing but there is no reason for that. Blue Host is good cheap hosting and that's all you need if you're on a budget.
Installing WordPress And A Few Basic Settings
This step is very easy with a few clicks of a button to get started.
Bluehost will install WordPress for you!
The first thing you need to do is create a password.
Now you choose a theme for your website.
Don't worry you can change this later if you need to change it.
Once you have done that it's all done!
You will be taken to a screen that says "Start Building" Click that button.
You will end up here.
Now we just need to launch the website.
Follow the instructions in the picture below by clicking "BlueHost" then "Home" Then "Launch".
Now all you need to do is name the blog and click "Next Step"
Congratulations! You have just created an amazing website where you can now start blogging!
Once this is done you will be taken to the backend that will look like this.
This is where you can do things like Live Chat and some other options as you can see from the image above.
I love using BlueHost because they have the automatic wordpress install.
Other hosting providers make you install it yourself and it can be time consuming and confusing.
Now that you have the blog setup it's time to grow it!
4. Start writing!
The good news is that if you can use Microsoft Word, Pages, or Gmail, writing a blog post in WordPress is just as easy. Let's walk through some of the important features you should know!
To start writing a post, just click "Posts" in the side-bar, then click "Add New."
If you've logged out of WordPress, type inhttp://your_domain.com/wp-admin/ to log back in!
What you'll see is a very friendly editor screen that should remind you of MS Word or Pages on Mac: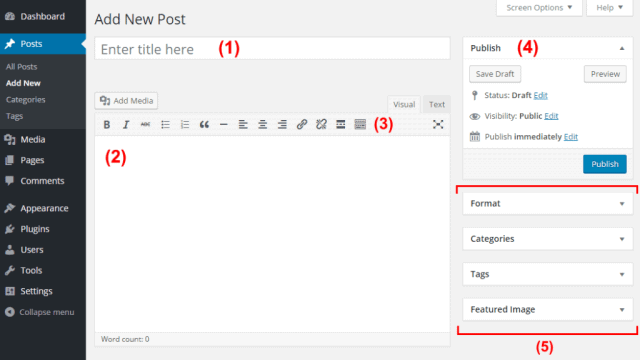 Let's break down what you're seeing here:
1. Title Area: This is where you write the title of your post.
2. Content Area: This is where the body text of your post goes. The whole area works just like text editing in Word or Pages.
3. Standard Editing Tools: Here are options like bold, italic, lists, paragraphs, and headlines.
In a moment, I'll show you how to use this section to add links, images, and more to your post.
At the very end of the Standard Editing Tools is the "Toolbar Toggle" that looks like this:

Click this to add even more options to your Toolbar, such as Undo/Redo buttons, text color formatting, indentation, and more.
4. Publishing Tools: This is where you get your post shown to the world.
The most important thing to note here is the big, blue "Publish" button you'll push when your blog post is ready.
You can click "Save Draft" on an incomplete post to save your work without pushing the post live.
The "Preview" button can be useful to test out how your post will look when it's live without having to publish it right away – especially when adding images or videos.
You can also use the options in this section to schedule a post for the future, make posts public or private (password required), or even UNPUBLISH a post by changing the "Stats" back to "Draft."
5. Additional Fine-tuning Tools: You'll sometimes use these tools to update your blog post, tag it with a category, or add a featured image – but for now, you won't be using this much. You can learn more about
WordPress categories and tags here.
Quick tip: Do you write your blog posts in a program like Word, and then copy and paste them into WordPress? You may get frustrated by how WordPress formats the text you paste.To avoid problems, make sure you've clicked the "Toolbar Toggle" button, then click the "Paste as Text" button that looks like the below:

WordPress will strip out all of your previous formatting, so you can customize the text to look exactly how you like.
Adding headings
Headings help you structure your content and make it easier for people to read. For example, in the text above, "Adding headings" is my heading!
This helps people who want to scan content find what they need. Consider adding headings for each of your main points.
To add a heading, scroll up to "Paragraph" drop-down menu and select the heading you'd like to use.
Note that the "Heading 1" is usually reserved for the post's title, so stick to the smaller headings (with larger numbers) inside the post.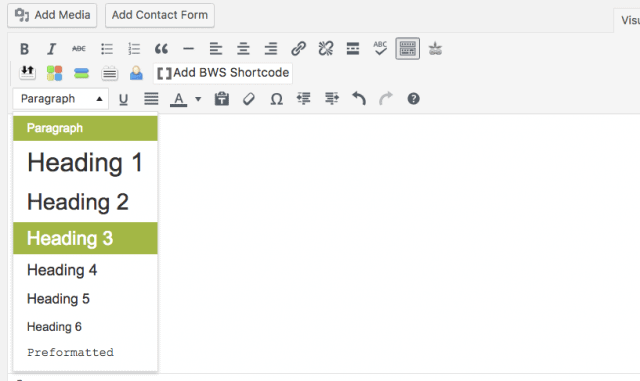 Quick tip: "Heading 1" is usually reserved for the blog post's title, so you shouldn't use it again in the body of your content.Consider using "Heading 2" to break down the different sections of your content, and "Heading 3" for sub-headings inside those big sections.
Trying to get more traffic from Google? Google loves to see the keywords you're targeting in your headings, so try to use them naturally!
Adding Links
It's a good idea to link to other (credible) websites: whether to share a piece of content or back up a claim you've made, or share another one of your own posts. WordPress makes it easy.
To add links to your posts, highlight the desired text (for this example, I just wrote "Add links" as my text) and then scroll up to the blog menu.

Click the button that looks like a paperclip, to the right of the "Align right" item and above the "Add BWS Shortcode".

From there, add the URL you want to link to:
Then, click the Settings icon on the right (the wheel-looking item above, next to the arrow).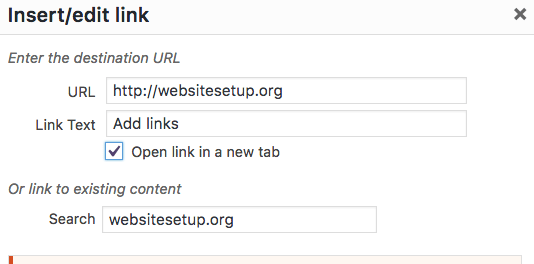 Click the "Open the link a new tab" box. This is important—you don't want people to leave your site when they click on a link!
Adding images
I touched on this briefly before, but I'll explain it more here. Start by scrolling up to the top of the blog menu and click "Add Media" in the top left corner of the menu.

From here, select the files you'd like to upload. You can find previously uploaded files from the "Media Library" at the top-left corner next to "Upload Files" – no need to upload them again!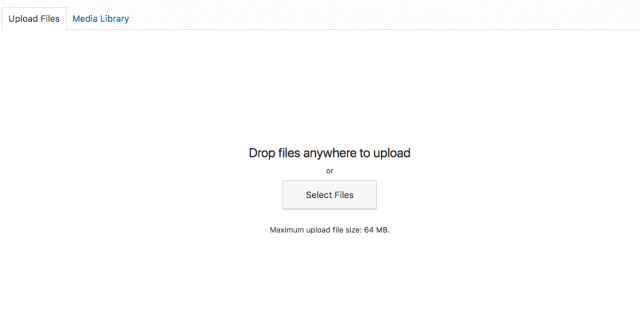 Once you've uploaded an image, you can choose its size and placement.
Adding a "Featured" Image
A featured image is simply the image that will be displayed at the very top of your post, and will be used in the thumbnails of your article when you share it on places like Facebook or Twitter.
To add a featured image, run your mouse along the right sidebar of your blog menu. You'll see an option titled "Set featured image".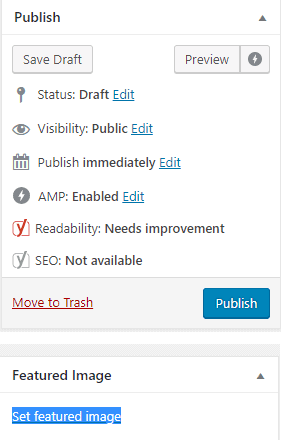 Click that, then go through the same uploading process to add an image as you did in the step above.
Quick tip: Try to pick a featured image that draws the eye – you'd be surprised how colorful, weird, or interesting images can make a HUGE difference on how many people will click through to read your blog posts!
Publish Your Post
All done? Click that "Publish" button. Then click "View post" when the link appears to see your new post live in action!
Congratulations! You just published your first blog post. But don't stop there!
5. Start Making Money with Your Blog
So basically here there are two ways from which you can make money of your blog, they are Adverting or Affiliate Marketing
1. Advertising – You directly generate income from your blog. Examples of advertising opportunities are:
Display Ads – These are graphic ads that are usually placed in the sidebar, header, footer or within the content. Display ads come from Ad Networks which act as middlemen between advertisers and bloggers. Google AdSense is one of the most popular ad networks.
Private Ads – This is a direct arrangement between an advertiser and the blogger. To find potential advertisers, go to your competitor's website and see who places ads there. Contact them and pitch a win-win proposal.
Reviews and Giveaways – Companies may compensate you in currency or kind for reviewing their products or giving away samples in your blog.
Newsletter/ Podcast Sponsorship – You can ask for advertisers to place ads on your newsletters or to have their businesses mentioned in your podcast.
Sponsored Posts – You are hired by a company to write about their products and services.
Underwritten Posts – You could write about any topic, but the company would like you to mention them in your blog.
2. Affiliate Marketing – You are promoting someone else's products and services in your blog. You get paid whenever someone clicks on the link and transacts with the company.
The bottom-line is the amount of income you earn from blogging will depend on the number of followers you generate and the viewership your gain. To become a successful blogger requires time, effort and lots of creativity and resourcefulness.
So, for beginner bloggers planning to start a blog, my recommendations are simple. Learn how to build reputation and traffic first and keep making money for later. Even if you place 1 million ads on a blog with little traffic, it will make nothing or very little. So, now you know the secret of how to start a blog and make money.